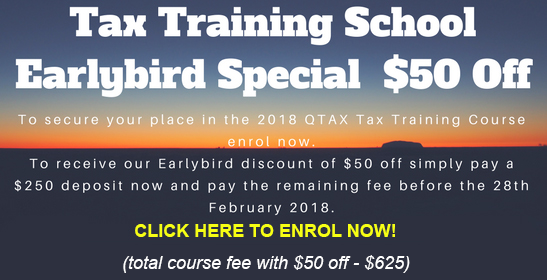 Looking for a change in careers? Or maybe just wanting to update your knowledge on the practical side of taxation? Or maybe you would like to better understand the tax implications relating to yourself or your business? Then we have the course for you.
By attending our course you are making a commitment to your personal and professional development.
This comprehensive course covers all areas of individual income tax, capital gains tax, investment properties and computerised data input training.
Who Can Apply?
If you want to learn more about income tax, how to save on your own tax, or how to earn an income as a professional income tax preparer, apply for this course right now.
No previous experience is necessary.
If you are a people person and are good with numbers we can train you.
Access to the internet is compulsory.
There are no restrictions as we are an equal opportunity employer. We have expert teachers and supervisors who work in taxation all year round. This course will enable you to acquire a practical knowledge of the preparation of tax returns.
If you have just completed your accounting degree or hold any qualifications in taxation, i.e. Tax Agent, please include a copy of your resume or Tax Agents Certificate with enrolment. Qualified applicants have often found our course to be an excellent opportunity to update their current level of knowledge in taxation or increase their tax preparation skills.
We are currently running the QTAX Tax Training School in 4 different locations; Clontarf, Morayfield, Maroochydore and Mackay.
Day and Night classes are available at several of these locations.